Penny writes plays and scripts for stage performance and animations. If you are interested in using any of the scripts, please contact Penny using the contact form.
The Gingerbread Man
An English or English Italian bilingual retelling of the traditional tale of The Gingerbread man.
You can find out more and watch a video of a performance here
Warden Pie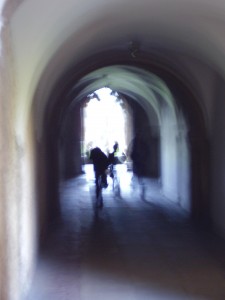 A haunting tale to warm the cockles on a cold winter night.
One-Act Play by Penny Culliford based on Dark Entry, The Legend of Nell Cook from the Ingoldsby Legends by Rev Richard H Barham
In a dark passage near the cloisters of Canterbury Cathedral, a secret lies buried for a hundred years. Three stonemasons arrive to work on a loose paving stone and the secret is released. A place where evil masquerades as good, and the good are driven to evil deeds but everyone gets their just "desserts".
'For soups, and stews, and choice ragouts, Nell Cook was famous still!
She'd make them even of old shoes, she had such wond'rous skill:
Her manchets fine were quite divine, her cakes were nicely brown'd,
Her boil'd and roast, they were the boast of all the 'Precinct' round;
From The Ingoldsby Legends, by the Rev. Richard H. Barham
To read a blog about the 2011 production of this play, click here
 The Golden Chain or La Catena D'Oro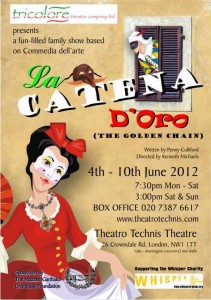 The Golden Chain (La Catena d'Oro) is a play in the commedia dell'artestyle of theatre – sounds high-brow, doesn't it?
Well it can be.
Some people take it very seriously.
We don't.
Commedia dell'arte throws together recognisable stock characters in ludicrous situations and watches as mayhem ensues. But there is always a happy ending.
Without commedia, there would be no Shakespeare, pantomime,Punch and Judy, circus clowns, Charlie Chaplin or Mr Bean. Commedia is as much Del Boy falling through the bar as it is Italian Renaissancetheatre.  This youtube video gives a beautiful introduction to some of the stock characters of commedia. I'll bet there are some you recognise.
Click here to see the blogsite of The Golden Chain
Henry Hand Puppet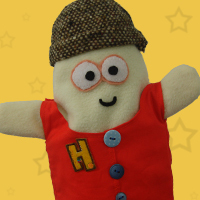 A children's Bible story DVD from Taylormation
Henry Hand Puppet is a brand new DVD series for toddlers created by the award winning production company Taylormation. Each DVD will contain 6, 10min episodes which will introduce the children to key Biblical stories in a fun, entertaining and creative way.
Each episode follows Henry, Helen, Harriet and Fred as they spend their day together at Puppet Patch Nursery. The nursery has a large playroom and a big garden full of wonderful toys, games and activities for the puppets to keep themselves stimulated.
Through interacting with the narrator the puppets learn some important life lessons like sharing, bullying is bad, respecting your friends, looking after nature and safety. These ultimately end with the narrator reading a Bible story to give an example.
Click here to see more of Henry and buy the DVD